The Self-Protection Nozzle is designed to establish security, protection,extinction, self-protection and geolocation of people threatened by fire.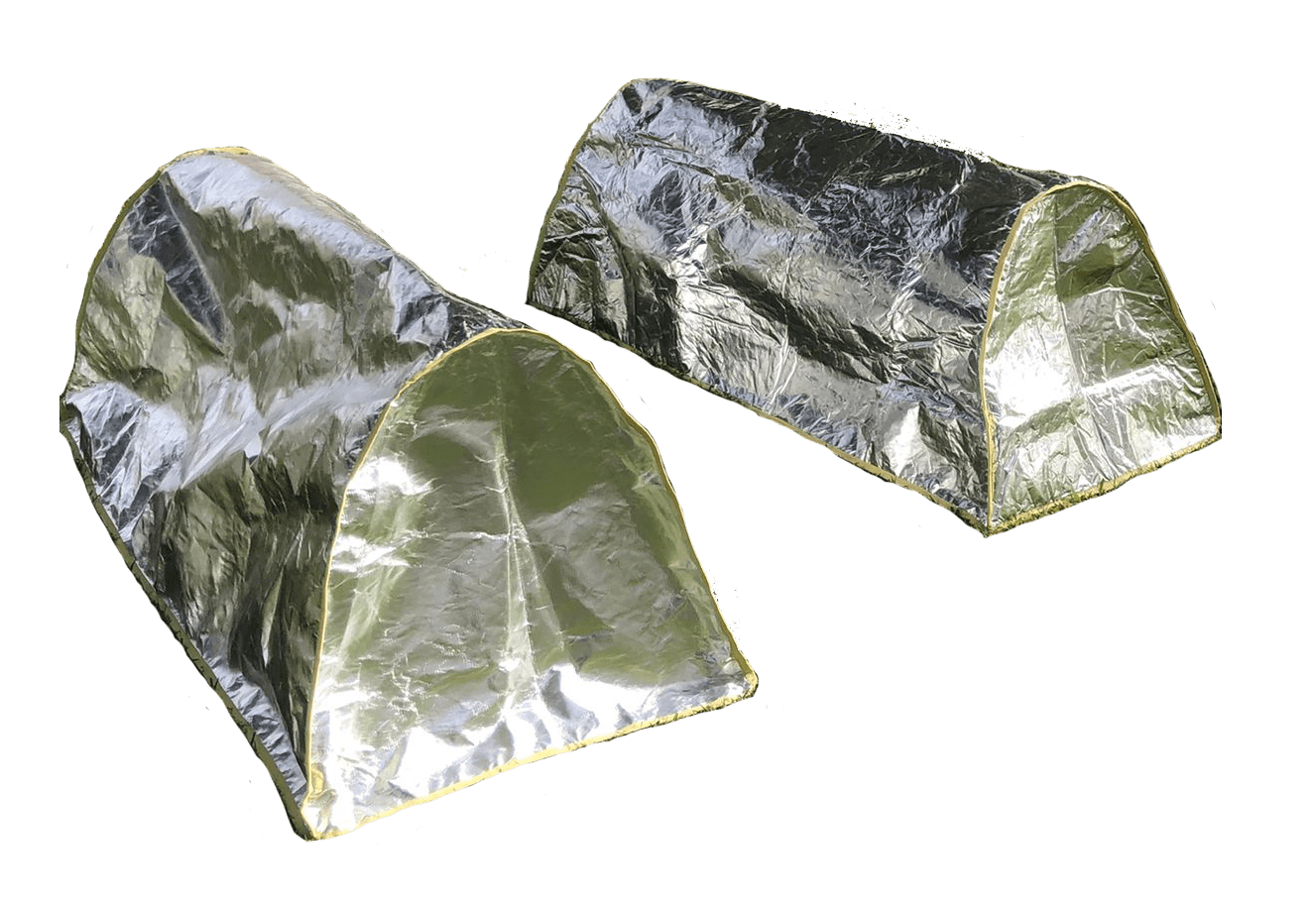 The fire survival FS6 individual fireproof shelter is a cover built with fireproof materials to protect forest firefighters in case of entrapment.
Its ease of deployment makes it an ideal device for emergency services in possible situations of extreme danger where their lives are at stake.
Features of the FS6 shelter
The Individual shelter offers protection against radiation and convective heat for high-power flames at short distances.
Multi-layer aluminized fireproof fiberflass fabric.

Extended dimensions: 180 x 70 x 70
Folded dimensions: 27 x 20 x 10
Weight: 1.5 Kg
Complies with ISO 11612:2015 and UNE-EN 469/A1 standards.
Protection Level A2-B1-C4.
European Directives on general product safety 2001/95/EC, Royal Decree 1801/2003 and directives on minimum safety and health requirements for the use of work equipment by workers.
EN 469 standard: Turns >60s (minimum required by the standard is >18s)

EN11612 standard: Complies
Technical features of the fabric
Composition: 95 % fiberglass- 5 % Aluminum (alloy 1050)

Base: Fiberglass

 External cover: 12 μ Aluminu

Internal cover: N/A

Tissue: Satin

Weight: 450 gr/m2

Thickness: 0,4 mm
Thermal properties of the fabric
Continuous Temperature: 450ºC

Peak Temperature: 550ºC

Reflective radiation: 750º-850ºC

Flame spread: A1-A2 according to ISO 15025

Convective heat: B1 according to ISO 9151

Radiant heat: C4 according to ISO 6942
Tensile strenght: Warp > 2400 N ±10 % Weft > 2000 N ±10 %0,4 mm
according to ISO 4606
Resistance to water penetration: 170 000 Pa according to EN 20811
Fire Intervention in Forest
Despite being an indispensable element in the integral safety kit, to deal with risk situations due to entrapment with firetrucks, its features and effectiveness makes the kit an element with many applications in the different firefighting and rescue services.
It is used in interventions related to the protection of people or properties, that may be threatened by fire, as well as an element to help set up protection, extinction and safety of firemen involved in all those operations of extinction and rescue, that imply risk or threat to life. This, combined with its adaptation ability to the different water supplies from fire fighting vehicles, motopumps,…