The truck cover blanket is a fireproof cover made of flame retardant materials with high resistance to flame and high temperatures. It is designed for protection and minimizes the risk of reaching its ignition point, preventing the vehicle (tires, pneumatic system) from catching fire.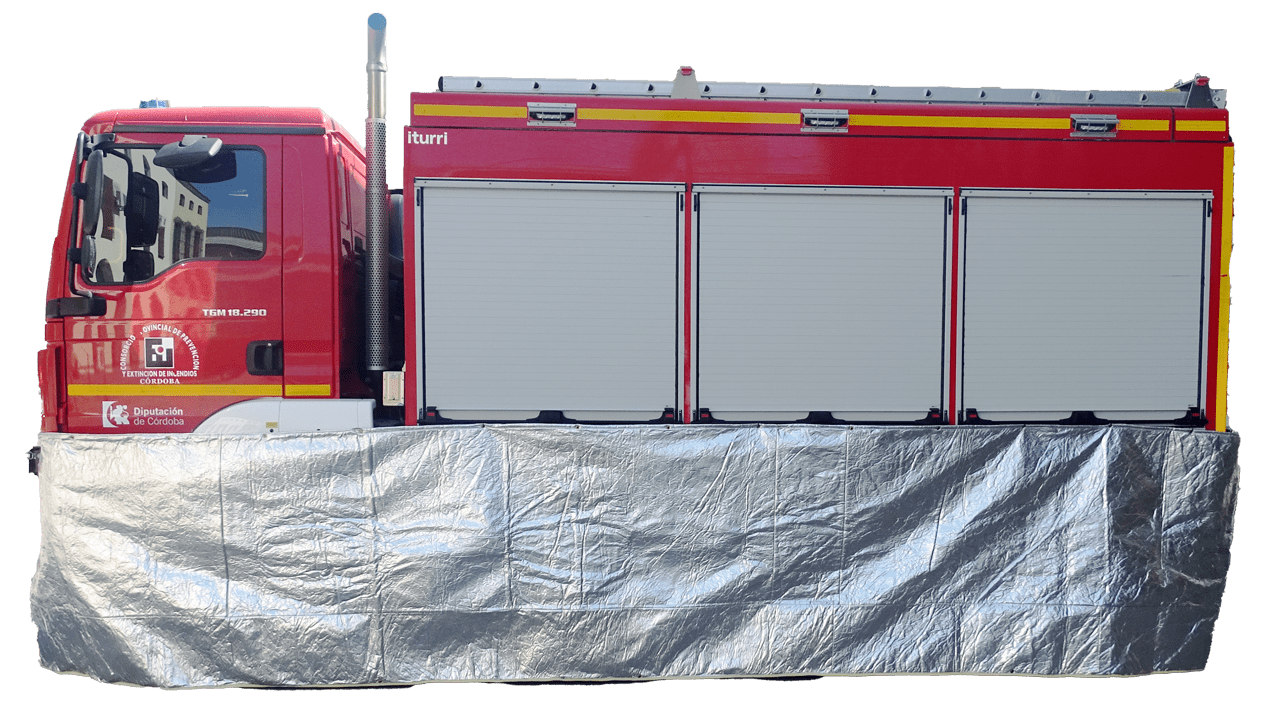 FIRE RETARDANT COVER BLANKET FOR TRUCK
The Thermal Cover blanket offers protection of Tyres, neumatic parts and critical components of the vehicle, Fireproof and Impermeable, it is specially designed to establish the protection of the lower sections of the vehicle and to avoid its ignition in extreme situations of exposure to fire.
4-layer flame retardant fabric.
Grip and positioning handles.
AS A THERMAL PROTECTOR :​

Protects the tire from radiation, convection and conduction.​
Easy and quick deployment.​
Delay the ignition point of the tire.​
Adaptability to different tires.​
Available for heavy and light vehicles.​

AS AN EXTINGUISHING AGENT IN COMBUSTION TIRES :​

It acts as an extinguishing agent by suffocation in burning tires.​
Reduces heat transmission to the rest of the vehicle
Technical characteristics
Conformities: European General Product Safety Directives 2001/95/CE, Royal Decree 1801/2003 and Directives on minimum health and safety requirements for the use of work equipment by workers, Directive 89/655/CEE, Directive 95/63/CEE, Directive 2001/45/CE and Royal Decree 1215/1997.
Certification of the fabric: The set of layers that make up the fabric has been certified by a notified body accredited by ENAC and in accordance with the UNE EN ISO 11612 and EN 469/A1 standards, according to:
EN ISO 15025
ISO 9151
EN ISO 6942
ISO 12127-1
ISO 17493
EN ISO 13934-1
EN ISO 13937-2
EN ISO 13935-2
Accredited Notified Body Number: 0161
Test report number: 2017 EP3190
Includes the following components :
1 aluminum Cover blanket including a
Carrying bag
(L) 8 m X (W) 1.45 m (Other dimensions on request).
Transport bag: (L) 600mm X (H) 50mm x (W)15mm
Unit weight: 7,5 kg.
1st and 2nd outer layer: with special protection against radiant heat, 3rd and 4th inner layer: with special thermal protection.
Indoor radiant and convective heat protection against flames with a maximum power of up to 600 kW, a medium flame speed of up to 20 km/h and a minimum distance of 1.5 m from the front of the shelter.
Protection against radiant and convective heat inside, against flames up to 10.5 m wide with a maximum power of up to 80 MW, without forced ventilation and at a minimum distance of 2 m from the front of the shelter.
Performance level obtained in EN ISO 11612 fabric certification
A1 (EN ISO 15025, Procedure A)

A2 (EN ISO 15025, Procedure B)

B2 (ISO 9151)

C4 (EN ISO 6942, Method B)

F3 (ISO 12127-1)

COMPLIES (ISO 17493)

COMPLIES (EN ISO 13934-1)

COMPLIES (EN ISO 13937-2)

COMPLIES (EN ISO 13935-2)
Performance level obtained in the EN 469/A1 fabric certification:
LEVEL 2 (ISO 9151)
LEVEL 2 (EN ISO 6942, Method B)
COMPLIES (ISO 17493)
COMPLIES (EN ISO 13934-1)
COMPLIES (EN ISO 13937-2)
COMPLIES (EN ISO 13935-2)
by carabiner or similar to fixed points on the truck.
Fire Intervention in Forest
Despite being an indispensable element in the comprehensive safety kit, to deal with risk situations due to entrapment with pumper vehicles, its different of features combined with its effectiveness, make the device an element with a variety of applications in the different firefighting and rescue services.
It is used in interventions related to the protection of people or property, that may be threatened by fire, as well as an element of special interest to help establish and promote the protection, extinction and safety of personnel involved in all those operations of extinction and rescue that imply an imminent risk or threat to combatant personnel. This, combined with its adaptation ability to the different sources of water supply (fixed-mobile), coming from boost systems and firefighting networks, such as extinguishing vehicles, motor pumps, etc; make it a device with applications in different sectors and users.