FS1 – Integral Protection Nozzle
The Self-Protection Nozzle is designed to establish security, protection,extinction, self-protection and geolocation of people threatened by fire.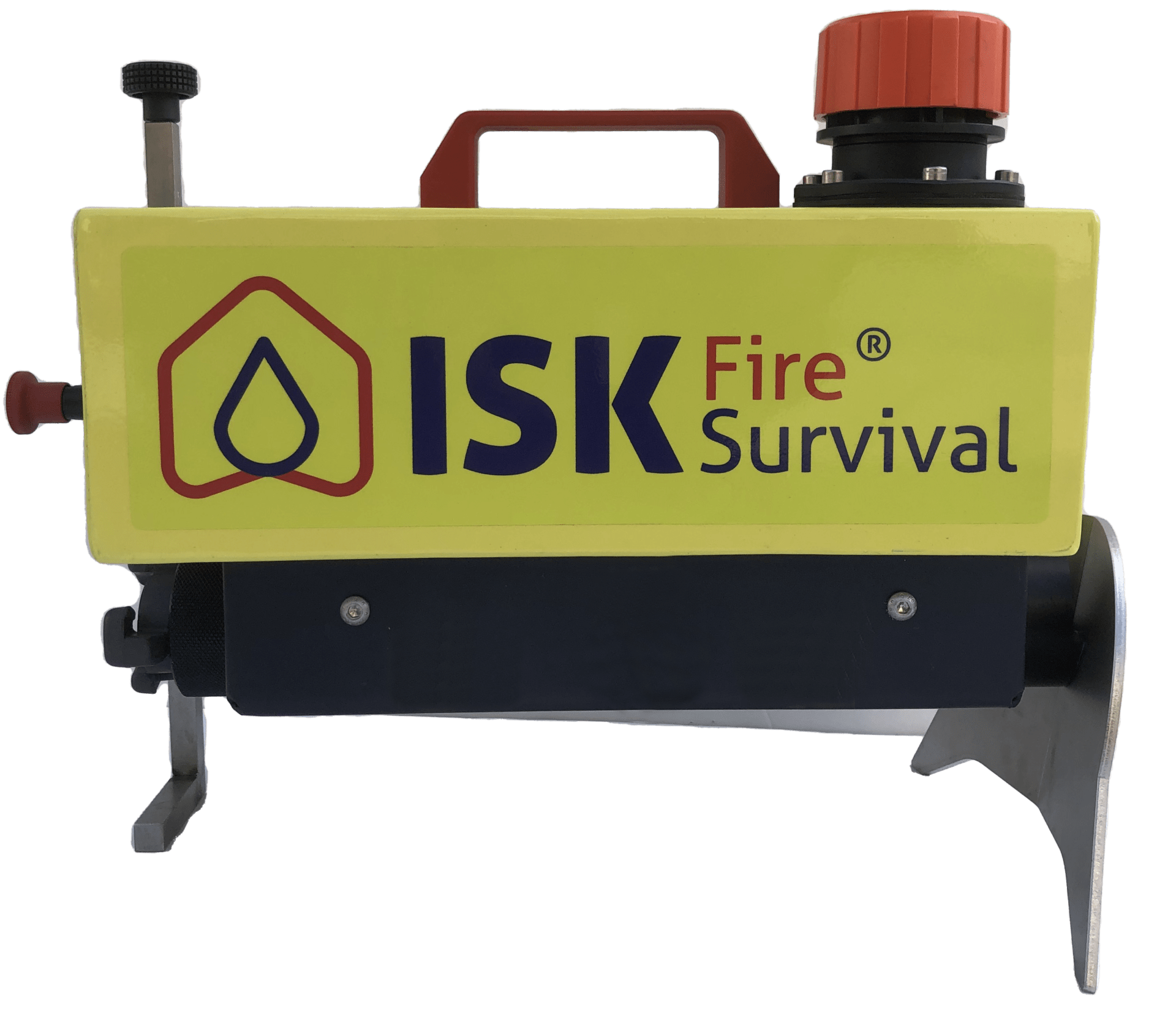 The Integral Security and Self-Protection nozzle is specially designed to establish SECURITY – PROTECTION – EXTINCTION – SELF-PROTECTION – GEOLOCATION of people and goods threatened by fire in entrapment situations. Its benefits and use allow it to obtain the title of collective protection equipment in the fire sector.
Features of the FS1 nozzle
The Integral Safety nozzle offers protection against direct contact, radiation and convective heat by means of a water and foam screen that can exceed 10 metres width and more than 6 metres height.
Autonomous work, with previous installation.
Portable or fixed use device.​
Portable geolocation attached by fireproof cover.​
Diversity of applications in other sectors, adaptable to different power supplies.​
Ability to adapt to different work surfaces.​
Working angle and adjustable flow.​
Built-in supplier, with adjustable dispenser.​
360º rotating hydraulic connection.
Working pressure manometer.​
Extinguishing agent tank incorporated, with luminescent paint.​
Connection system, for external feeding of extinguishing agent, by foam injector. ​
European Directives on general product safety 2001/95/EC, Royal Decree 1801/2003 and directives on minimum safety and health requirements for the use of work equipment by workers.
Directive 89/655/EEC,

Directive 95/63/EEC,

Directive 2001/45/EC 

Royal Decree 1215/1997
European Standard EN 15767-1:2009 
Part 1. Applied clauses: 1.2/5.1.3.1/5.3.1/6.3.1/6.3.3/5.1.1/5.1.1/5.6.4
Includes the following components
Nozzle

 Fire Hose (L = 13 m, . = 25mm).

Short term retardant (𝑉V  = 9L 𝑙 ).

Foam inductor for external injection of extinguishing agent.

Carrying bag
Technical characteristics
Material of the nozzle body and handle support: Anodized Duraluminium.

Material of the projection screen: Stainless steel.

Material of the tank assembly – control panel: Aluminium.

Tank capacity: 9 litres.

Tank handle type: Technopolymer.

Tank filler cap: Technopolymer with filter and overpressure valve.

Weight: 10 kg.

Weight when loaded: 19 Kg:

Dimensions: (L) 400 mm x (H) 340 mm x (W) 200 mm

Couplings incorporated: Barcelona type, Storz, NHST,SYM, UNI with 360º rotation. (Consult other types of fittings)

Reference pressure (PR): 6 Bar

Nominal pressure (PN): 16 Bar

Maxt pressure: 40 Bar

Recommended working pressure range: 30 bar in high pressure and 12 bar in low pressure, obtaining 300 l/min.

Geolocation system (Optional): Mobile geolocation system protected with fireproof cover *(Consult the manufacturer's technical data sheet supplied with the GPS).
Fire Intervention in Forest
Despite being an indispensable element in the comprehensive safety kit, to deal with risk situations due to entrapment with pumper vehicles, its different of features combined with its effectiveness, make the device an element with a variety of applications in the different firefighting and rescue services.
It is used in interventions related to the protection of people or property, that may be threatened by fire, as well as an element of special interest to help establish and promote the protection, extinction and safety of personnel involved in all those operations of extinction and rescue that imply an imminent risk or threat to combatant personnel. This, combined with its adaptation ability to the different sources of water supply (fixed-mobile), coming from boost systems and firefighting networks, such as extinguishing vehicles, motor pumps, etc; make it a device with applications in different sectors and users.